POAM Experts' Workshop
19/06/2020 1:00 pm - 4:00 pm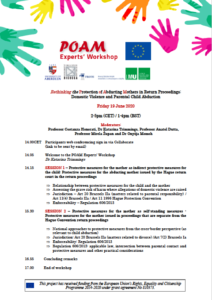 The POAM research team are very pleased to have another opportunity to hold the experts' project workshop which will now take place via the Collaborate Video Conference Platform on 19 June 2020, from 1-4pm (BST). The workshop will bring together judges, practitioners (lawyers, solicitors, barristers), academics and other officials; and it will be a chance to exchange knowledge, practical experiences and receive valuable contributions to POAM's work on the Best Practice Guide.
Session 1 will look at 'Protective measures for the mother as indirect protective measures for the child: Protective measures for the abducting mother issued by the Hague return court in the return proceedings' and Session 2 will explore 'Protective measures for the mother as self-standing measures – Protective measures for the mother issued by a domestic court different from the Hague return court'.
The event will be moderated by Dr Katarina Trimmings, Professor Costanza Honorati, Professor Anatol Dutta, Professor Mirela Župan and Dr Onyója Momoh.
Venue
Online Video Conferencing Platform: Collaborate