Logging In
A WordPress CMS URL will typically looks something like:
The admin URL for the above site would typically be: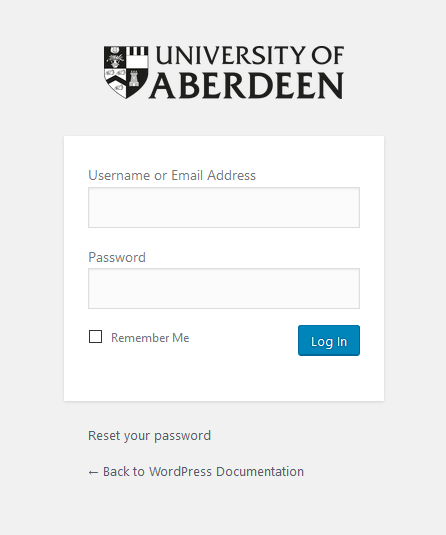 Note that you will be provided with the site and admin URLs for your site(s).
Entry to the site admin requires that you enter:
Your standard University of Aberdeen Username (without @abdn.ac.uk) or Email Address
Your standard University of Aberdeen Password
Once logged in, you will be presented with the WordPress Dashboard:
Note that the Dashboard you see may differ from the one above.
You can control various aspects of your WordPress site from the Dashboard.
The WordPress Toolbar
The WordPress Toolbar is displayed at the top of your browser, providing access to services as outlined below. The exact Toolbar shown will depend on your WordPress variant.
Hovering over the WordPress icon  displays a link to the WordPress.org web site, to Documentation, Support Forums and a Feedback link. This can be ignored as all necessary documentation for the University of Aberdeen WordPress environment will be provided and support is available via the Web Team at web-team@abdn.ac.uk.
If your site(s) are hosted within a Multisite environment, when logged in, you will have access to all of the sites hosted within the environment that you are authorized to contribute to:
If you have access to multiple sites, the My Sites menu will enable you to easily swap between them with just a single login required.
If your site is a standalone WordPress installation, you will just see your site:

Yoast
The University of Aberdeen WordPress Content Management System utilizes the Yoast Search Engine Optimisation (SEO) plugin to assist in the development of search engine friendly content and in increasing engagement with visitors to your sites.
Yoast covers WordPress SEO at https://yoast.com/wordpress-seo/.