Regardless of whether you are looking to delete a Page, Post, News Item, Event or Profile, the procedure is the same.
Click on Pages / Posts / News / Events / Profiles as required to display a content listing
Hover over the Title of the item that you want to delete
Edit, Quick Edit, Bin and View options are displayed:
Alternatively, you can delete an item whilst working on the item itself.
Select the item you want to delete
Click Move to Trash in the Publish section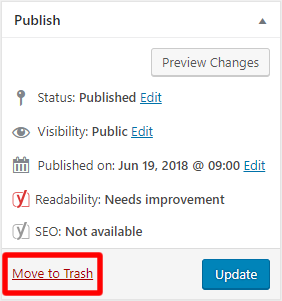 The item is moved to the Bin.
Note that you are not prompted to confirm the deletion.
Restoring Content
Should you accidentally delete something, or decide that it is actually required, it can be retrieved from the Bin.
Hover over the Title of the item you want to restore
Click Restore
Your item will be returned to its original location.
Alternatively, if you are ***absolutely sure*** that the item will no longer be required, click Delete Permanently.