The default WordPress Posts functionality provides the means to add to your site's Posts content.
Note: When Adding a New Post, you may wish to also consider
There are 3 different ways to add a new post
Click the Posts menu
Click Add New
OR

Hover over the Posts menu and select Add New from the pop-out menu options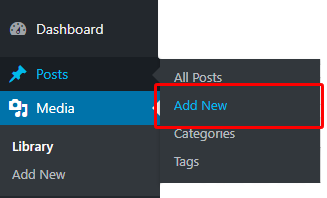 OR
If you are already on the Posts page, click the Add New option
The Add New Post screen is displayed:
Enter a Title for your Post
Enter standard content if required
Should you wish to create a Modules Only Post, select the Modules Only option under Page Settings > Page Type on the right of the page. Note that you may need to scroll down the page to see the Page Settings
Add content modules if required – see later for information on creating content modules
Save Draft, Publish or Update your Post
Save Draft
Use Save Draft when you need to save your post but are not yet ready for the post to go live on your web site i.e. when your post still requires work to be done on it
Publish
Use Publish when you are ready for your post to go live on your web site.
Update
The Update button will only appear once a post has had an initial Publish. Once a post has been published, any further changes to the post are considered updates.