News, Events and Profiles are all Custom Content Types constructed specifically for the University of Aberdeen WordPress Content Management System.
Note that News, Events and Profiles are typically used at the top level of your site i.e. https://research.abdn.ac.uk/my-site/news/
The addition of each of these is relatively straightforward, and anyone who has used the University of Aberdeen News, Events or Staffpages systems will be familiar with the fields that are required for each of these items.
News, Events and Profiles can be accessed through their respective menu items, with the option to display All News/Events/Profiles or add a new News Item/Event/Profile.
Select News / Events / Profiles from the WordPress menu
Select All… or Add… as required
News
From the menu: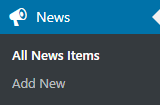 From the News page:
Events
From the menu:
From the Events page:
Profiles
From the menu:
From the Profiles page: