Fields
The following fields are used in the Background Image content module:
Fields marked * are compulsory.
| | | |
| --- | --- | --- |
| Field | Action | Option / Content |
| Status * | Select | Published / Unpublished |
| Image * | Select/Upload | Required background image |
About
The Background Image module provides the means to add an aesthetic element to your page, and to break up content. The module adds a parallax image to the web page.
"Parallax scrolling is a web site trend where the background content (i.e. an image) is moved at a different speed than the foreground content while scrolling."
https://www.w3schools.com/howto/howto_css_parallax.asp
Background Image Admin
The Background Image Content Module appears as follows when added:
Adding a Background Image Content Module
Open the Page / Post on which you wish the Content Module to appear
Click the Add Module button
Select Background Image
Select the required Status

Click the Add Image button
This displays the Select Image window
Click on an image from the Media Library tabOR
Click the Upload Files tab
Click the Select Files button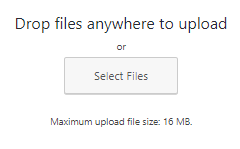 This displays the Open window
Locate and select the required image
Click the Open button
A tick and blue border appears around the selected image
The selected image is added to your module

Click Save Draft / Publish / Update to save
Background Image Themes
Themes are not applicable to the Background Image content module.
Background Image Example