Multisite and Standalone
WordPress is available in either multisite or standalone setups. Most sites will typically be housed within one of our multisite WordPress installs, holding, as the name suggests, multiple sites. Occasionally, there may be a requirement for a standalone WordPress installation. Your site variant will be discussed with you in advance of building.
Pages, Posts and Custom Types
WordPress typically revolves around the use of Pages and Posts, which cover web site creation and news / blog posts respectively. However, the University of Aberdeen WordPress Content Management System also makes use of Custom Content Types. As the name implies, these are content types that have been developed specifically to meet a particular need such as News, Events and Profiles. These are covered later in the documentation.
Standard Content and Content Modules
WordPress provides a 'standard content' area by default across Pages, Posts and most Custom Content Types.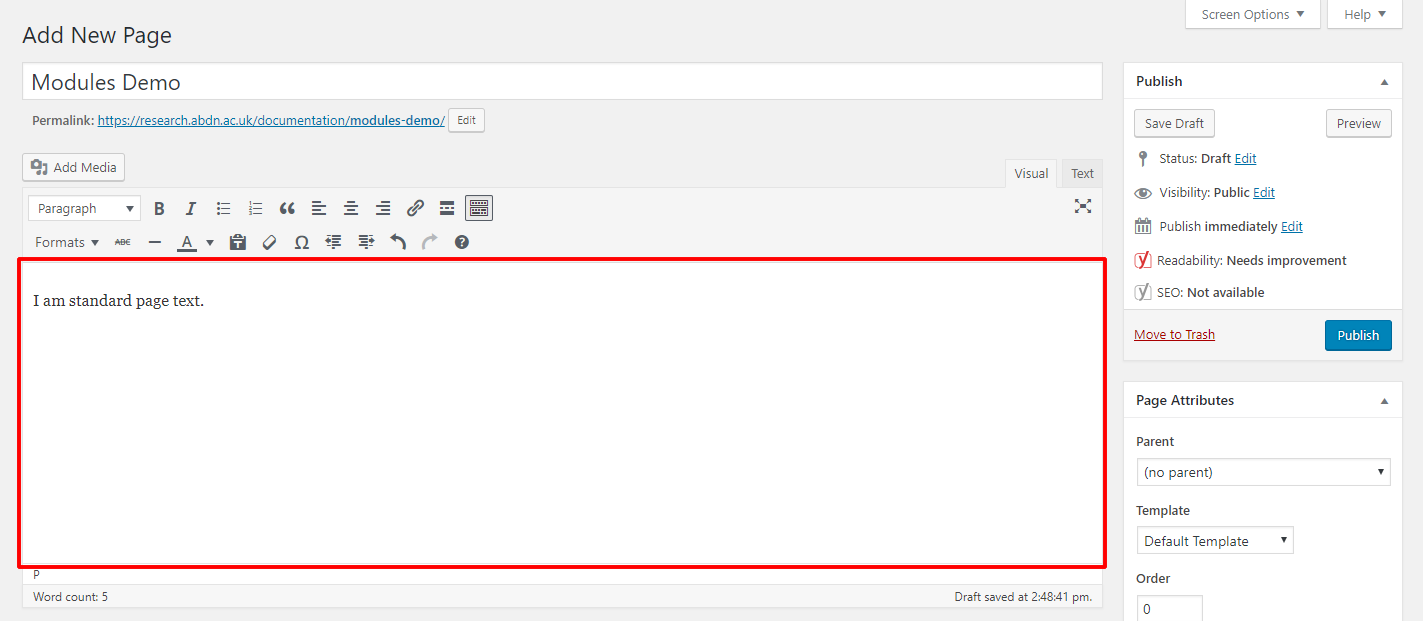 Content Modules have been developed by the University of Aberdeen Web Team to provide additional functionality, much like the modules currently used in the OpenText CMS.
The following content modules are currently available:
Note that content module styling may vary depending on the specifics of the Theme used on your site. However, the overall appearance and functionality is typical of that represented in the documentation that follows.
Content modules are positioned directly underneath the WordPress standard content.
Pages/Posts can be set to Modules Only should you wish to construct pages/posts built entirely of content modules. This option can be found in the Page Settings panel, to the right of the page.
What You See Is What You Get WYSIWYG
You will come across the use of WYSIWYG throughout this site. This is an acronym for What You See Is What You Get. WordPress uses WYSIWYG editors at points to let you edit content in a way that reflects the final display of the content. Typical WordPress WYSIWYG editing options are shown below.